A home for every
thing we love
It used to be a theater.
A daylight one.
We've kept the space,
and the light,
much of the grandeur,
and a little of the theatricals,
to create the NewWerktheater.
Restaurant
Enter through the front door and you will find yourself here. Order a coffee, grab a magazine, take a seat and enjoy our menu with daily changes. Every Friday Night we're open for dining and cocktails, never the same menu, always a great night.
M: restaurant@newwerktheater.com
P: +31 (0)20 57 213 80
Editions
NewWerktheater Editions are artist and -brave- brand collaborations born to provoke. If you'd like to know more or feel that together we'd create something exceptional.
M: editions@newwerktheater.com.
Work & Event Space
The NewWerktheater has three stellar spaces to make ideas happen. From the intimate Out of Place to the impactful Foyer, there's a place to fit every happening.
Photo Studio
A high ceiling and massive windows make the Photo Studio the spot for photoshoots. Alternatively, swap the soft box for a table and you've got a great space for workshops.
M: spaces@newwerktheater.com
P: +31 (0)20 57 213 85
ShopShopShop
An ever changing mini-shop in the form of a cabinet. Shopshopshop is always refreshing, always revolving. From all-time classics to once in a lifetime.
Coming Soon
General Inquiries
If you have a question or request, please use the contact details below.
News
— FALLEN BIRD X ANOTHER SOMETHING
13/10/17
On Friday October 13, Lifestyle platform Another Something will present the exhibition Fallen Bird; a journey translating paper and graphite into black porcelain.
For the first time ever, Dutch illustrator Lennard Kok joins forces with Another Something, in a close collaboration with Michiel Verweij en Suzan Becking, transforming one of his iconic illustrations into a sculpture made out of porcelain, which is given the name: The Fallen Bird.
We cordially invite you to the NewWerktheater's White Space to experience this exhibition; be among the first to purchase a unique sculpture (made in an edition of 25 + 5 AP's) and have a drink with the artists and the guys behind Another Something. We will also have our exclusive Friday Night menu, so be on time to reserve your table for some delicious food.
Time: 1700 – 2100h
Contact: hi@newwerktheater.com or T. +31 20 57 21 385
Past Events &
Collaborations
Elle Shoot
ADCN Events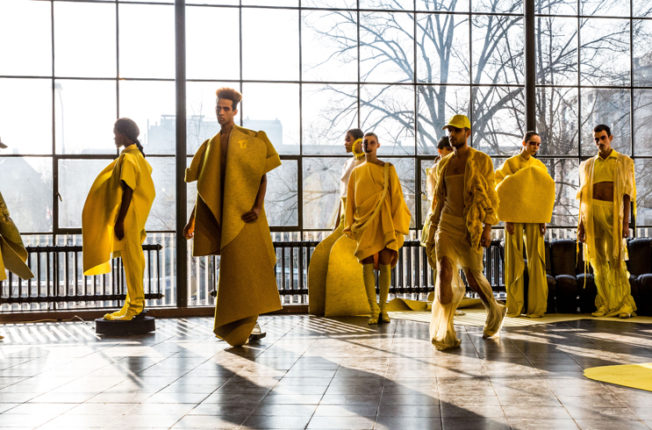 Artez arnhem fashion show
CreativeMorning Talk
Directions
The NewWerktheater is located in the Oostelijke Eilanden neighbourhood.
Oostenburgergracht 75,
1018 NC, Amsterdam.
You can access our location via Public Transport. The closest bus and tram stop are:
Tram n°10 – Stop Amsterdam, 1e Coehoornstraat
Bus n°22 – Stop Oostenburgergracht (From Station Sloterdijk – Centraal Station – Muiderpoortstation)